Victorian Baptism Certificate
Item # CRT014 -- Free shipping and handling! Total price only $12.00.
This is a color reproduction of a Victorian Baptism Certificate on parchment-colored stock.

It measures approx. 11" x 14" and is an absolutely lovely Victorian reproduction.

Shrinkwrapped and ready to present as a Baby Shower gift and be filled out. Or keep it for yourself!

I also have Wedding, Birth, First Communion, Christening, Tooth Fairy and First Day of School Certificates.

Click here to list all available certificates.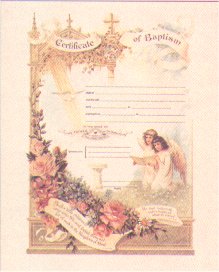 Click here for extra-large image.
X-large images may take extra time to display.
CERTIFICATE OF BAPTISM
........
Child of ........
and his wife ........
born ........ in .......
was baptized ....... in .......
....................
In the Name of the
Father of the Son and of the Holy Ghost

..........
Sponsors were: ........
..........

....................
....................
Pastor