Victorian Embossed Fan Greeting
Item # FAN038 -- Free shipping and handling! Total price only $8.25.
This is a beautiful color reproduction of a Victorian Embossed Greeting Fan.

It is a 6-piece style fan with the verse on the front. Shrinkwrapped with an envelope and ready to present as a special and unique gift. Or keep it as a treat for yourself!

Click here to list all Victorian items!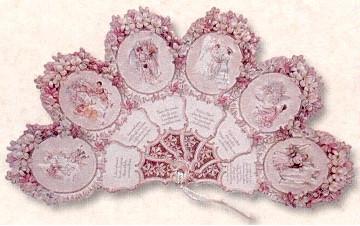 Verse
Like a pleasant breath of Spring; Blessed baby, precious thing. Run and jump and laugh and play; Life's more fun each passing day. There she stands a lovely teen; Lovliest the world has seen. "Father Time" close by your side; As you stand a blushing Bride. Take another step today; "Mom" will help you on the way. Favorite roles I've played through life; Grandma, Mother, Loving Wife; "Father Time It's plain to see, life's still out there beckoning me.