Victorian Embossed Wedding Fan Greeting
Item # FAN037 -- Free shipping and handling! Total price only $8.25.
This is a beautiful color reproduction of a Victorian Embossed Greeting Fan.

It is a 6-piece style fan with the verse on the front. Shrinkwrapped with an envelope and ready to present as a special and unique gift. Or keep it as a treat for yourself!

Click here to list all Victorian items!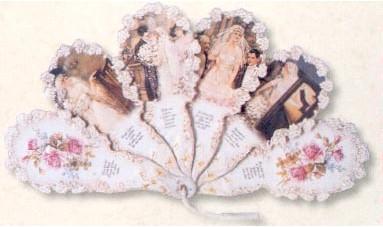 Verse
Roses for the lovely Bride; Dreams of love all tucked inside. Bridal gown so pristine white; Wedding music fills the night. Bride and Groom- A perfect pair; Love and gladness everywhere. Wedding cake for one and all; Bells and ribbons grace the hall. Honeymoon planned just for two; smiling as they wave adieu. May their lives be filled with laughter; and tru love bloom ever after.