Cherub Birth Certificate
Item # CRT027 -- Free shipping and handling! Total price only $9.00.
This is a color reproduction of a Victorian Birth Certificate on parchment-colored stock.

It measures approx. 10" x 8" and is an absolutely lovely Victorian reproduction.

Shrinkwrapped and ready to present as a gift and be filled out. Or keep it for yourself!

I also have Wedding, Baptism, First Communion, Christening, Tooth Fairy and First Day of School Certificates.

Click here to list all available certificates.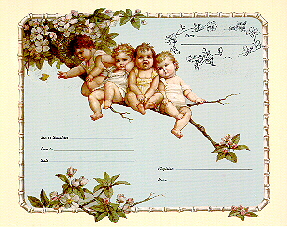 Click here for extra-large image.
X-large images may take extra time to display.
Name ________
______________

Son or Daughter _____________

Born to _______________

Date _________________

Physician ________________

Nurse __________________