Bride & Bridesmaid Marriage Certificate
Item # CRT012 -- Free shipping and handling! Total price only $12.00.
This is a color reproduction of a Victorian Marriage Certificate on parchment-colored stock.

It measures approx. 16" x 11" and is an absolutely lovely Victorian reproduction.

Shrinkwrapped and ready to present as a gift and be filled out. Or keep it for yourself!

I also have Baptism, First Communion, Christening, Tooth Fairy and First Day of School Certificates.

Click here to list all available certificates.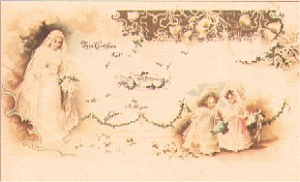 This certifies that
[groom] and [bride]
of [groom's birthplace] and of [bride's birthplace]
Were by me United in Holy Matrimony
at [city and state of ceremony location]
on the [day] day of [month]
in the year [year]
Witnesses