Yellow Jasmine
Item # JAZ001 -- Free shipping and handling! Total price only $12.00.
This is a stunning full-color reproduction of an original watercolor by Ohio artist Julia Tuttle. It is printed on sturdy 80 lb. uncoated cover stock which is perfect for calligraphy!

It measures 11" x 14" and is perfect for framing as-is. Or, add a matte and have your guests sign the matte as an elegant alternative to a traditional guest book!

Ready to present as a gift and be filled out. Or keep it for yourself!



I also have Baptism, First Communion, Christening, Tooth Fairy and First Day of School Certificates.

Click here to list all available certificates.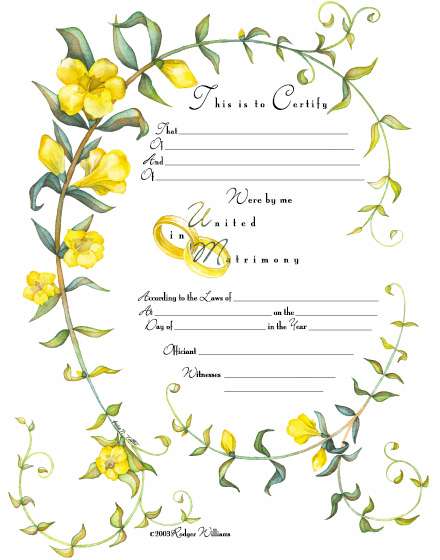 Click here for higher quality image.
(may take extra time to display in new window)
This is to certify
That ____________________
of _________________
and ________________
of ______________
Were by me
United in Matrimony
according to the Laws of _____________
at __________________ on the __________
Day of _________ in the Year _______
Officiant ______________________
Witnesses___________________
___________________