Yellow Jasmine Marriage Certificate
Item # JAZ001 only $12.95.


This is a stunning full-color reproduction of an original watercolor by Ohio artist Julia Tuttle. It is printed on sturdy 80 lb. uncoated cover stock which is perfect for calligraphy!

It measures 11" x 14" and is perfect for framing as-is. Or, add a matte and have your guests sign the matte as an elegant alternative to a traditional guest book!

Ready to present as a gift and be filled out. Or keep it for yourself! Click here to find all of the beautiful items and unique gifts I have to offer!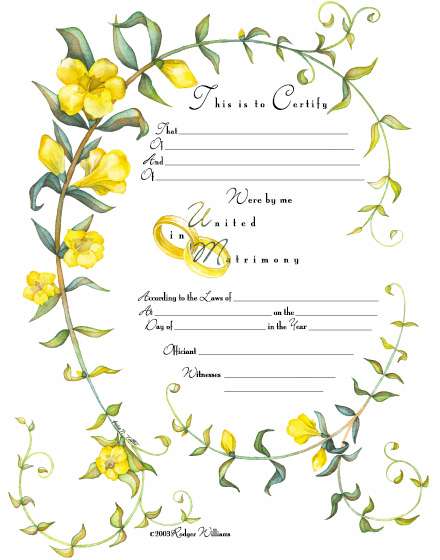 This is to certify
That ____________________
of _________________
and ________________
of ______________
Were by me
United in Matrimony
according to the Laws of _____________
at __________________ on the __________
Day of _________ in the Year _______
Officiant ______________________
Witnesses___________________
___________________