Father Time Folding Fan
Item # FAN038 only $5.95.


This is a beautiful color reproduction of a Victorian Embossed Greeting Fan. These are very special and unique and are sure to be cherished for years!

As elegant and beautiful as they were in Victorian days. These greetings will delight the recipient! All are die-cut and embossed in great detail, just as the originals were at the turn of the century. They open to approx. 11 x 7 and when closed they fit easily into the mailing envelope that's packaged with each fan. These are decorative greeting card fans. They ARE NOT suitable for use as regular fans.

Each is individually shrink-wrapped with cardboard backing for shipping.
Click here to find all of the beautiful items and unique gifts I have to offer!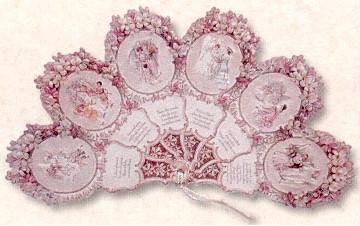 Like a pleasant breath of Spring;
Blessed baby, precious thing.
Run and jump and laugh and play;
Life's more fun each passing day.
There she stands a lovely teen;
Lovliest the world has seen.
"Father Time" close by your side;
As you stand a blushing Bride.
Take another step today;
"Mom" will help you on the way.
Favorite roles I've played through life;
Grandma, Mother, Loving Wife;
"Father Time It's plain to see,
life's still out there beckoning me.

Sales tax for Ohio purchases will be added at checkout.