Open White Roses Marriage Certificate
Item # CRT025 only $6.95.


This is a color reproduction of a Victorian Marriage Certificate on parchment-colored stock.

It measures 8 x 10 and is an absolutely lovely Victorian reproduction.

As elegant and beautiful as it was in Victorian days. This certificate will make a wonderful and memorable gift for a wedding shower! Each is individually shrink-wrapped with cardboard backing for shipping.
Click here to find all of the beautiful items and unique gifts I have to offer!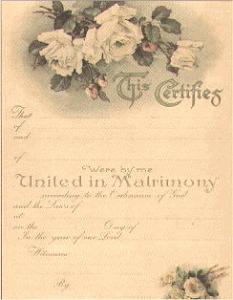 Click here for large image.
(may take extra time to display in new window)

This certifies
That[groom]
of [groom's birthplace]
and [bride]
of [bride's birthplace]
Were by me
United in Holy Matrimony
according to the Ordinance of God
and the Laws of [state]
at [city & state of ceremony location]
on the [day] Day of [month]
in the year of our Lord [year]
Witnesses
By

Sales tax for Ohio purchases will be added at checkout.