Oval Photo Marriage Certificate
Item # CRT004 only $10.95.


This is a color reproduction of a Victorian Marriage Certificate on parchment-colored stock.

It measures 12 x 16 and is an absolutely lovely Victorian reproduction.

As elegant and beautiful as it was in Victorian days. This certificate will make a wonderful and memorable gift for a wedding shower! Each is individually shrink-wrapped with cardboard backing for shipping.
Click here to find all of the beautiful items and unique gifts I have to offer!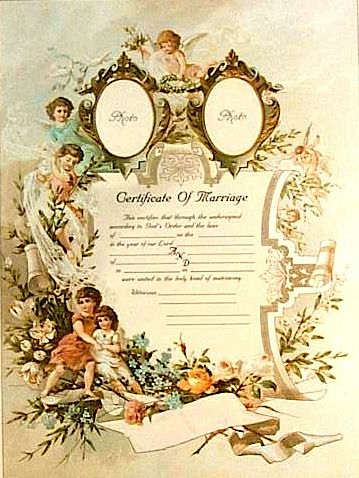 Click here for large image.
(may take extra time to display in new window)

Certificate of Marriage
This certifies that through the undersigned
according to God's Order and the laws
of [state] on the [month and day]
in the year of our Lord [year]
[groom] and [bride]
of [groom's birthplace] [bride's birthplace]
at [city & state of ceremony location]
were united in the holy bond of matrimony
Witnesses

Sales tax for Ohio purchases will be added at checkout.