Unique Folding Fans
Click on an image for full description and enlargement.

These are beautiful color reproductions of Victorian Embossed Fans. These are very special and unique and are sure to be cherished for years!

As elegant and beautiful as they were in Victorian days. These greetings will delight the recipient! All are die-cut and embossed in great detail, just as the originals were at the turn of the century. Folding fans open to approx. 11 x 7 and when closed they fit easily into the mailing envelope that's packaged with each fan. These are decorative greeting card fans. They ARE NOT suitable for use as regular fans.

Each is individually shrink-wrapped with protective cardboard backing for shipping.

Soldier
11 x 7
Item # FAN028
$5.95



Dogs and Cats
11 x 7
Item # FAN040
$5.95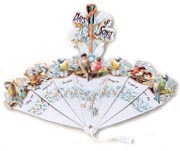 Bird Parasol
11 x 7
Item # FAN059
$5.95


Sales tax for Ohio purchases will be added at checkout.