Plain Victorian
Item # CRT900 -- Free shipping and handling! Total price only $5.00.
This is a black and white reproduction of a Victorian Marriage Certificate on parchment-colored stock.

It measures approx. 8.5" x 11.5" and is an absolutely lovely Victorian reproduction.

Ready to present as a gift and be filled out. Or keep it for yourself!

I also have Baptism, First Communion, Christening, Tooth Fairy and First Day of School Certificates.

Click here to list all available certificates.


This image may look poor, but the certificate itself is very sharp!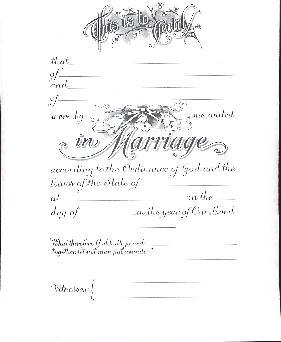 This is to certify
That[groom]
of [groom's birthplace]
and [bride]
of [bride's birthplace]
Were by me
United in Marriage
according to the Ordinance of God and the
Laws of the State of[state]
at [city & state of ceremony location]
on the [day] Day of [month]
in the year of our Lord [year]
What therefore God hath joined
together, let no man put asunder

Witnesses